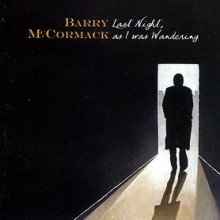 release date:
March 31, 2006
share:
Hag's Head Records
All songs written by Barry McCormack
Barry McCormack - guitar, harmonica, banjuitar, percussion & vocals
Graham Hopkins - percussion
Shane McGrath - mandolin
Adrian Crowley - upright harmonium
Joss Moorkens - saw & accordion
Recorded by Barry McCormack
Mixed by Rob Bochnik
Mastered by Brett Sparks
Sleeve design by Niall McCormack
Cover painting by Adam Pomeroy
Last Night, As I Was Wandering
LYRICS
ONLY JESUS KNOWS
Last night as I lay dreaming
I dreamt I fell into the river from the quay
And my body went to Heaven
But my soul drifted out to sea
I went twice around the Black Church
And the Devil did appear
I awoke down in May Oblong's house
With a bad case of the fear
And only Jesus knows
Where the Devil fears to go
I dreamed that I met Frank Duff
I said to him 'Good night'
He said, 'I can give you Jesus
If you repent to me this night'
He said, 'Deep below the city
There are deep and hidden caves
And in the deepest of these unholy sites
Somebody wrote 'Jesus Saves'
But only Jesus knows
Where the Devil fears to go'
Last night, as I lay dreaming
I dreamt I fell into_]ames' Well
May Oblong was there to greet me
When I awoke down in Hell
She said, 'Choose your ideals carefully
For one day you must prove them true
And be careful who you follow
For one day they will follow you
And only Jesus knows
Where the Devil fears to go'
AS I WENT UP TO REDMOND'S HILL
As I went up to Redmond's Hill
At the croaking of the day
Desirous in my heart
To be upon my way
Out of this fulsome town
Her feculent river turning brown
I went to get Conroy
But Conroy was gone
His mother said he left
With the setting of the sun
I said to her Conroy would be fine
He had long planned to leave this place behind
To tell the truth
I was more worried about myself
The state of my pockets
And my uncertain health
I was not fit for one so young
There was something clicking in my lung
I thought, 'Where would I be
Without Conroy by my side?
My guru, my mentor,
My brother, my guide'
I remembered something he had said
That filled me full of hope as much as dread
'They will want you
They will want you
They will want you to lay down
But do not lay down'
Somewhere I found
The resolve to go on
Despite my fears
Of Conroy being gone
I gathered up
My lazy man's load
And made my arrangements
For the road
I calmed myself
That I knew where he would rove
West to Naas
And south to Cobh
Westward out of here
Past Baltimore and Cape Clear
I went to see my father
To say goodbye
The bridge it shook beneath me
The river it was high
He said, 'When Peter stands in front of you
Only the virtuous souls will pass through
And they will want you
They will want you
They will want you to lay down
But do not lay down'
The past is a place
That most will choose to flee
Show compassion
When you come to hear their plea
Do not strip them of their dignity
Nor demonise those who wish to be free
I remembered something
That Conroy had read
In those dark books
He kept beside his bed
'They will curse your will to survive
And they will mock your attempts to strive
And they will want you
They will want you
They will want you tn lay down
But do not lay down'
As I went up to Redmond's Hill
At the croaking of the day
COME ALL YOU YOUNG SINNERS
Come all you young sinners
And gather round
Till I tell ye of the day
That I alighted in the town
It was under James Connolly's
Statue I stood
Far from my hometown
Crookedwood
The jewel of the Midlands
On the edge of the lake
Where the children of Lir
Their hearts did break
I had heard of the city
I heard it was no good
I swore I'd never leave Crookedwood
But a job is a job
Is a job is a job
They will leave you your soul
But your time they will rob
It's that Faustian pact
I never understood
But that is was what took me
From my beloved Crookedwood
The office was full
Of those prosaic souls
In love with the greyness
Resigned in their roles
Who came into this world
And got stuck in the mud
A thousand light years
From Crookedwood
I had been up all day
When they gave me the keys
To the room with the files
I got down on my knees
For I knew administration
Was always in my blood
Ever since I was a young boy
In the fields of Crookedwood
The boys in the boardroom
They stood around and posed
And pissed the company down the drain
In their Brown Thomas clothes
And when they moved me sideways
I knew things were not good
I wished they had moved me
Back home to Crookedwood
You know, they delegated Jesus
And they sent him down to earth
He died for our sins
And he took away our hurt
One day he will return
And with him the flood
To wash away those posh boys
And me back to Crookedwood
DO NOT REVEL IN YOUR WOE
On the evening of the night
That I called it a day
I had headed down the wrong road
It had all gone astray
I had reached my nadir
I had hit a new low
When I heard a voice say to me
'Do not revel in your woe'
Five years in the basement
I had the mildew on my arms
And the bachelors' lifestyle
I grew weary of its charms
One day she came to me
And said, 'There is something you should know
You won't see nothing in the basement
You'll just revel in your woe'
Out cold on the in-tray
Shivering hard like a wreck
I went to see the captain
Sun himself up on the deck
I said, 'Can you tell me how long
I must suffer down below?'
He said, 'It's none of your concern
just do not revel in your woe'
Monday is a tyrant
Sworn to tell you you're alone
But the weekend has a tyranny
That's all its very own
That clock ticks on Friday
Till the cock it will crow
And you're back in there struggling
Not to revel in your woe
Hard learning is something
That you must accept with grace
When faith lifts its finger
And spits in your face
Though the night will seem endless
And the dawn will come slow
You will be rewarded
Do no revel in your woe
Your man up the road
In a house I've never been
He's got a bittemess in his heart
The likes of which you've never seen
One day he tried to woo me there
I knew I could not go
I had to keep on moving
Let him revel in his woe
They will come and they will test you
They will meddle with your soul
They will point up to Heaven
While they dig you a hole
When they come calling
Tell them what you know
That they cannot crush your spirit
Do not revel in your woe
IN THE WATCHES OF THE NIGHT
Frankie left in the watches of the night.
He took his TV and his favourite coat and left the rest
of the detritus of his dissolute lifestyle scattered across
the floor. No, I don't think he liked me much. Of all the
years we lived together, I'd hide in my room like some
diffident ghost, afraid to come out and rattle my chains
till everybody's gone to work. I should have listened to
my father. He said, 'Never live with someone who was
born in a bar, it'll only end in tears.' I never knew where
the women came from-—they called at all hours, I gave
them tea and sympathy, nodded my head sagely and
sent them on their way. I sometimes wonder where he
is now. I heard he was back in Belcoo, or working in a
bar in Queens or The Bronx. It's inevitable we meet
again at some funeral in the suburbs. We will shake with
sorry hands, humbled by the great leveller. I sometimes
wonder where the recalcitrant souls go when they're
thrown out of the world, with no patience for Purgatory
and no reference for the Lord.
SCALDBROTHER'S GHOST
I was drunk on my father's best whiskey
When I passed out on the street
I awoke sometime in the evening
Where the ghosts of night-ladies meet
I don't remember leaving
But I remember in Saint Paul's
There were fourteen pictures ofJesus
And I betrayed him in them all
I remembered in the brewery
I saw her, she was there
She was dancing with the ghost of Scaldbrother
And on her there was not a care
Tell me, can you save me?
Can you save me from myself?
I am half the man without her
And that man is somebody else
There's a drunkard living in my shoes
There's a coward in my head
There's a man who stinks like a sailor
And he wants to take to his bed
Once I was a bachelor
And I'd do as I'd please
But I'm drunk again with the ghosts of my past
And I can't get up off my knees
Tell me, can you save me?
Can you save me from myself?
I am half the man without her
and that man is somebody else
So take me up to Monto
Cos I don't care any more
I've got half a crown's worth of loneliness
And Bella Cohen is waiting at the door
Can you hear the hops? They are brewing
Can you smell the wind turn brown?
If I ever crawl out of this tomb
I promise I won't turn round
Tell me, can you save me?
Can you save me from myself?
I am half the man without her
And that man is somebody else
BALLAD OF BOOZE AND BEDRAGGLEMENT
Well, sit down friend and I'll tell you a tale
It reeks of whiskey and the beer gone stale
It's the long sad story of where my youth went
I spent it on booze and bedragglement
I lived in the basement, the Devil ate my food
He'd sit in the corner and he'd belch and he'd brood
I never got the money that I had lent
He spent it on booze and bedragglement
Back in those days I didn't get much sleep
The living was hard and the drink it was cheap
But a rise in inflation is something you resent
When you're living on booze and bedragglement
Once I was holy, I was holy no more
And Jesus sat crying and scratching at the door
But I fell asleep one evening and I slept through Lent
I was living on booze and bedragglement
Back then I was idle, I did not do much
I wasn't too good at the keeping in touch
But she got a letter that I never sent
It said, 'I'm living on booze and bedragglement'
Once I had dreams but they went to the wall
But I never did miss the last-orders call
One nod at the barman and he knew what I meant
I was living on booze and bedragglement
I'd been a wild rover for many a year
But I never got further than Dun Laoghaire Pier
We talked about going, but we never went
We were living on booze and bedragglement
I lived through the hard times, I lived through the boom
One day the landlord threw me out of my rooms
He said, 'It's your own fucking problem if you can't
pay the rent
Cos you spent it on booze and bedragglement'
So now my young friend, you've heard what l've done
Take heed of my advice, take heed, my son
If you waste your best years one day you will repent
All the living on booze and bedragglement
All the living on booze and bedragglement
WAITING FOR JOE
Well, they say that one day Jesus is gonna come
He's gonna save us all, he's gonna take us home
When the world is at an end and the hurricanes blow
We'll all be standing around waiting for Joe
Well he gave me a call, said he'd take me out
And he'd generously treat me to a pint of stout
I'm still waiting, that was four years ago
I seem to spend my life waiting for Joe
I'm waiting for Joe
I'm waiting for Joe
I've got nowhere to go
I'm just waiting for Joe
Well the bar-room is empty and the night is still
I've got nothing to do but drink my fill
I said to the barman, 'It's unusually slow'
He said, 'Everybody's at home
They're sick of waiting for Joe'
But I'm waiting for Joe
I'm waiting for Joe
I've got nowhere to go
I'm just waiting for Joe
Well I guess some people are born to be late
And the rest of us were born to sit around and wait
But I'm telling you it's lucky, I've got nowhere else to go
Cos I'm gonna spend eternity, waiting for Joe
I'm waiting for Joe
I'm waiting for Joe
I've got nowhere to go
I'm just waiting for Joe
THE DEBTORS' JAIL
I'm in the debtors' jail
I'm in the debtors' jail
It's called the Marshalsea
In this refuge for the feckless
That stretches along the quay
Lord have mercy
Lord have mercy
If you've any left to show
I'll show more sorrow and contrition
Than any man could know
This cold stone
Chills my Spanish blood
Right down to my bones
And the spendthrifis and the blackguards
Will not leave me alone
I'm in the debtors' jail
I'm in the debtors' jail
It's called the Marshalsea
I spend my days now, bent in long prayer
That you will forgive me
In the Palace
Of Saint Sepulchre
I lay my cards down
Now Buck Whaley and his cohorts
They wait for me in the town
I'm in the debtors' jail
I'm in the debtors' jail
It's called the Marshalsea
I spend my days now, bent in long prayer
That you will not follow me
I FELL INTO OLD WAYS
I took a fifty from her purse
And went to Sean Malone's
I bade him good evening
And repaid him the loans
He said, 'I didn't expect
To see you round here these days'
I said, 'Neither did I
But I fell into old ways'
I fell asleep at the piano
In the Brooks Hotel
The porter he woke me
And he gave me hell
I expected applause
And anticipated praise
But in my heart I knew
I fell into old ways
Down in The Garden
Of Forgetfulness
I told them the tale
Of the rake's progress
All along I travelled
Into that sweet malaise
It seemed my soul yearned
To fall into old ways
Tomorrow morning's pockets
Are the ones who will know
Where it is that you've been
And where you're bound to go
I looked into the future
And I saw a haze
And I knew I was destined
To fall into old ways
So someone tell the Lord
I'm an Indian giver
I gave him my soul
But I'm taking back my liver
And the ghost of Matt Talbot
He kneels down and prays
'Christ do not let me
Fall into old ways'
I know she will forgive me
When I return home
With the change of a fifty
And the lines from a poem
Some ancient Celtic paean
To dissolute days
She will smell me and know
I fell into old ways
LAMENT FOR BLACK HEAD
(for Brett and Rennie)
When the lights come on, on Foley Street
The Lord takes to his bed
With his brandy flask full of Hennessy and rum
And his soul full of fear and dread
Cos this town is a feckless sailor
That never made it back on board
Spent his wages down in Meg Arnot's house
Then he fell upon his sword
And when the wind it is howling
The moon's Christian name
The shadows they move slow
To avoid the gaze of the ghosts who walk
The waysides down below
And your man upstairs was a drunkard
At night I could hear him fall
One January, wet, I returned to my rooms
To find him out cold in the hall
He said, 'l wish that I was standing
Down there upon Black Head
Let the ghosts of Kelly's Corner
Take to their lonely beds
And when the wind it is howling
The moon's Christian name
The shadows they move slow
To avoid the gaze of the ghosts who walk
The waysides down below'
It was underneath the Onion Tower
That they beat him about the head
When they found him beneath the old pear tree
He was not much more than dead
Some say that the best revenge
Is living good and living well
While others say it's imagining the bastards' souls
As they burn down in Hell
And when the wind it is howling
The moon's Christian name
The shadows they move slow
To avoid the gaze of the ghosts who walk
The waysides down below
GOODNIGHT TO YOU, ONE AND ALL
It never rained in this town
Till Jesus was betrayed
The politicians were in the lobby
They were waiting to get paid
They threw me out of Buswell's
So I slept outside the Dail
I said, 'Goodnight to you, one and all'
The Sacred Heart of Monto
Is looking down upon me now
I said, 'When I return we will kill that pig
And slay that fatted cow
There will be an end to drudgery
And we will have a ball'
I said, 'Goodnight to you, one and all'
I pledge my allegiance
To the barstaff, the brewery
The vintners, the publican
And any man who will cure me
My soul is sipping Green Spot
At the bar in Tailors' Hall
I said, 'Goodnight to you, one and all'
I am not the only drunkard
To grow older at this bar
Telling tales of Illinois
And sleeping in the car
That night I stayed in Collinsville
I dreamt I was in Youghal
I said, 'Goodnight to you, one and all'
I've been north, I've been south
I've been east and I've been west
From the hallowed Hill of Tara
To where Boss Groker is laid to rest
All across the ocean
To Tammany Hall
I said, 'Goodnight to you, one and all'
When I left the Cashel Palace
I went to the Falls Hotel
It was there that I met Roisin
She loved me well
Till she ranoff with a poet
Draped in Biddy Early's shawl
I said, 'Goodnight to you, one and all'
On the boat-train to Euston
I did not have to ask
A distant heir of Arthur Price
Handed me his flask
He said, 'Where we are going
Fortune awaits us all'
I said, 'Goodnight to you, one and all'
All lyrics (c) Barry McCormack
"[Last Night, as I was Wandering] is a purgatorial stripmall facade of Nightown, populated by ghosts who walk: Kelly, Kavanagh, Behan, Dylan, MacGowan, the brothers Palace and Louvin and James Clarence Mangan...here's a body of song which understands that any port town is also a portal town, a hell door that admits all manner of strange sailors, strumpets and shape shifters.
...a lost weekend in a phantasmagorical theme park. I'd lobby for its creator to be awarded the freedom of the city, but going by these tunes, he's already got it." Hot Press
"Timeless ballads from the dark side...the lyrics reveal a finely honed literary sensibility" Evening Herald
"You could imagine Shane MacGowan or Luke Kelly blasting out these songs and if that's not a recommendation, we don't know what is" RTE Guide
"As Tom Waits can pull off the adoption of a range of whiskey-soaked characters of all ages, so can McCormack." Capital Magazine
"McCormack sings with a voice beyond his years... he pulls you into the story; and when you come out the other side, your emotions are scrubbed raw. Since Luke Kelly, this town has not produced many singers who do it so well." Foggy Notions