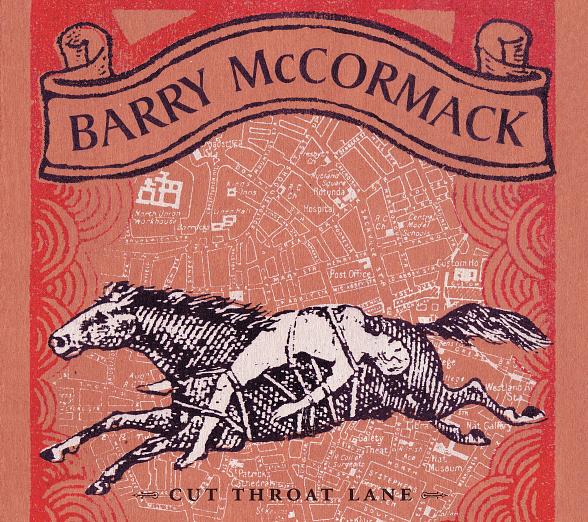 Barry's fifth solo album Cut Throat Lane is a love song to Dublin that sees the city in the midst of an economic meltdown yet with life very much going on, almost as normal.
The album evokes the ordinariness of urban life alongside its sinister shadow self, it captures private moments behind twitching curtains in tandem with its hectic street life. All the while the songs are hooky , melodically stronger and musically more nuanced than anything he has attempted before, thanks to a band of exceptional backing musicians and the light touch of Stephen Shannon, who produced the album with McCormack.
According to the annals 'Cut Throat Lane' was once the name of a thoroughfare in Dublin's Liberties, until it was changed to something more appealing by the city authorities (the equally unsettling 'Murdering Lane' once stood next to it). It was this strange street moniker that gave McCormack the inspiration for the album title and its title track; a song in which goings on are observed by a man killing time on the steps of City Hall, watching the 'dirt and confusion' (the words used by Charles Dickens to describe the slums of Dublin) and 'the ebb and the flow' of the city.


Never Leave The House from Cut Throat Lane
The observational and voyeuristic concerns of the flaneur  are to the fore throughout the album; in 'The Night Before The Horse Fair' the possible carnage of the Smithfield horse fair is the backdrop for a relationship meltdown as witnessed by a reluctant guest; 'A Moment Of Silence' chronicles the hysteria that engulfed the country as the Troika first came to town ; 'Worse things Happen At Sea' describes a city and its suburbs dealing with the curse of gang shootings  and the presence of 'shadowy creatures' who are condemned to roam the streets in search of drink, drugs and soup kitchen hand outs.
While it all sounds grim and gritty, Cut Throat Lane is imbued with a sharp sense of humour, like the people of the city that inspired it. Indeed, the album's production and arrangements are brighter and poppier than anything McCormack has done before, thanks to producer  Stephen Shannon, who works his not inconsiderable his magic on it, and to the top-drawer musicianship on display: venerable local folkie Gary Fitzpatrick layers on six part vocal harmonies and plays some mean banjo and accordion; Joss Moorkens of The Dudley Corporation brings his subtle drum skills to the songs; Michael Murphy from The Chapters puts down some swingy bass lines, while John Hegarty almost steals the show with some virtuoso keyboard and electric guitar playing, which are worth the entrance alone.
Barry, with full band, launches Cut Throat Lane with a gig in the Kevin Barry Room at Dublin's National Concert Hall on Friday, October 18th.  Special guest on the night will be 2013 Meteor Award nominee Mumblin' Deaf Ro.